History
The Catalan Don Jaume Partagás i Ravell (Arenys de Mar, 1816 – Vuelta abajo, Cuba, 1864) son of Jaume Partagás (taylor) and Theresa Ravell. He migrated to Cuba and founded with the help of a Lloret de Mar businessman, Joan Conill, a small tobacco factory in Havana in 1827, before establishing his own factory, Real Fábricas de Tabaco Partagás in 1845, on 60 Industria Street in Havana, one of the largest of its time. The name, which translates as "Partagás Royal Tobacco Factory," was supposedly chosen because of Don Jaume's status as cigar supplier to various European and Asian nobility. Don Jaume owned many of the best plantations in the Vuelta Abajo tobacco-growing region of Cuba; being able to choose from among the finest tobaccos on the island made the brand incredibly successful. Don Jaume is also believed to have experimented with various methods of fermenting and aging tobacco and is legendarily credited with hiring the first lector to read to and entertain the cigar rollers as they worked.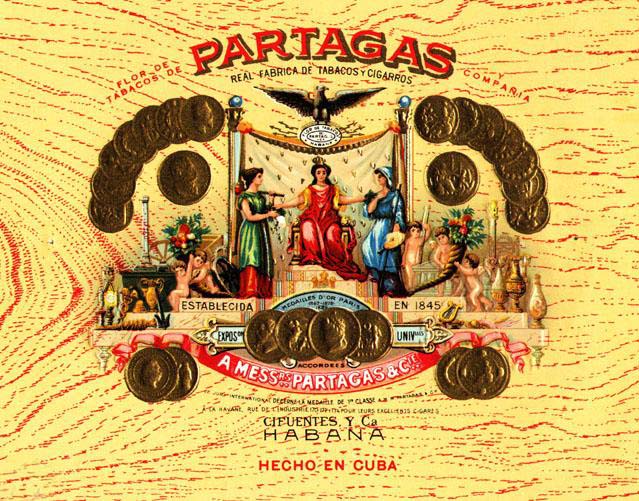 Don Jaume was murdered (supposedly by a jealous rival he'd been vying with in one of his love affairs) on one of his plantations in either 1864 or 1868 and his son Josep Partagás took over the business. Later the factory and brand were sold to banker José A. Bance, who in turn sold to Cifuentes, Fernández y Cía in 1900. In 1916, Don José Fernández apparently left the firm and Ramón Cifuentes Llano joined with Francisco Pego Pita to form Cifuentes, Pego y Cía. In 1927, it acquired the rights to the Ramón Allones brand; at some unknown point the factory began to produce a brand in its own name, Cifuentes.
Ramon Cifuentes died in 1938 and Pego in 1940, leaving the Cifuentes family solely in control of the increasingly prestigious factory and brand, which renamed the company Cifuentes y Cía. In 1954, the Cifuentes family acquired the Bolívar and La Gloria Cubana brands from José F. Rocha and moved their production to the Cifuentes factory. By 1958 it was second only to the H. Upmann company in exporting Cuban cigars, accounting for over a quarter of all exported tobacco goods.
Before and after the Cuban Revolution, the authentic Cuban-produced Partagás has been one of the most revered and highest-selling cigars in the world. By the middle 1990s it remained the second leading selling Cuban brand, following Montecristo, with annual sales of approximately 10 million cigars.
The old Partagás Factory in Havana, since renamed "Francisco Pérez Germán", is still responsible for much of the annual production of the Partagás brand. It has proven a very popular tourist destination for cigar smokers vacationing in Cuba.
In 2002, Altadis bought a controlling share in the Cuban government-owned cigar distributor, Habanos SA, and instituted a number of changes in cigar production. Among them was gradually turning the various brands of Cuban cigars to either all-handmade or all-machine-made lines, reducing the number of redundant sizes within a brand, and eliminating many low-selling cigars. Partagás, which has historically produced a variety of handmade and machine-made or machine-finished cigars, had several of its vitolas cut from production, much to the dismay of connoisseurs worldwide.
Since the introduction of the Edición Limitada annual releases, Partagás has produced a special size almost every year: the Pirámide in 2000, the Serie D No. 3 in 2001, the Serie D No. 2 in 2003, the Serie D No. 1 in 2004, a reissue of the Serie D No. 3 in 2006, and the Serie D No. 5 in 2008. In 2005, Partagás introduced a pyramid, the Serie P No. 2, which has proven highly popular with cigar connoisseurs.
Year of foundation: 1845
Tobacco Country: Cuba
Tobacco Procedence: Vuelta Abajo
Factory: Partagas
| Type | Vitola | Size | Ring | |
| --- | --- | --- | --- | --- |
| 150 Aniversario 109 | 109 | 184 x 19,84 | 50 | |
| 150 Aniversario Coronas Grandes | Corona Grande | 155 x 16,67 | 42 | |
| 150 Aniversario Robustos | Robusto | 124 x 19,84 | 50 | |
| 150 Aniversario Robustos Extra | Robustos Extra | 170 x 19,84 | 50 | |
| 155 Aniversario 109 | 109 | 184 x 19,84 | 50 | |
| 155 Aniversario Dalia | Dalia | 170 x 17,07 | 43 | |
| 155 Aniversario Salomones I | Salomones Espanola | 184 x 22,62 | 57 | |
| 8-9-8 Barnizados | Dalia | 170 x 17,07 | 43 | |
| 8-9-8 Sin Barnizar | Corona Grande | 155 x 16,67 | 42 | |
| Almirantes | | 156 x 14,29 | 37 | |
| Aristocrats | Petit Cetro | 129 x 15,87 | 40 | |
| Astorias | Cosacos | 135 x 16,67 | 42 | |
| Belvederes | Belvederes | 125 x 15.48 | 39 | |
| Bonitos Extra Mild | Chicos | 106 x 11,51 | 29 | |
| Capitols | Petit Cetro | 129 x 15,87 | 40 | |
| Charlottes | Carlota | 143 x 13,89 | 35 | |
| Chicos | Chicos | 106 x 11,51 | 29 | |
| Churchills de Luxe | Julieta No. 2 | 178 x 18,65 | 47 | |
| Coronas | Corona | 142 x 16,67 | 42 | |
| Coronas A Mejorado | Corona | 142 x 16,67 | 42 | |
| Coronas Grandes | Corona Grande | 155 x 16,67 | 42 | |
| Coronas Junior | Coronitas | 117 x 15,87 | 40 | |
| Coronas Senior | Eminentes | 132 x 17,46 | 44 | |
| Cristal Tubos | | 145 x 17,46 | 44 | |
| Cubans | | 159 x 13,89 | 35 | |
| Culebras | Culebra | 146 x 15,48 | 39 | |
| Demi-Tip | Demi-Tip | 126 x 11,51 | 29 | |
| Eminentes | Eminentes | 132 x 17,46 | 44 | |
| Fabulosos | Gran Corona | 235 x 18,65 | 47 | |
| Fancy Tales of Smoke | | 171 x 15,57 | 39 | |
| Filipos | Placeras | 125 x 13,49 | 34 | |
| Habaneros | Belvederes | 125 x 15.48 | 39 | |
| Jarra Humidor Sevilla | | 138 x 16,67 | 42 | |
| Londres en Cedro | Petit Cetro | 129 x 15,87 | 40 | |
| Londres Extra | Petit Cetro | 129 x 15,87 | 40 | |
| Londres Finos | Petit Cetro | 129 x 15,87 | 40 | |
| Lonsdales | Cervantes | 165 x 16,67 | 42 | |
| Lusitanias | Prominente | 194 x 19,45 | 49 | |
| Media Corona | | 90 x 16,67 | 42 | |
| Mille Fleurs | Petit Coronas | 129 x 16,67 | 42 | |
| Palmas Grandes | Ninfa | 178 x 13,1 | 33 | |
| Palmas Reales | | 160 x 15,57 | 39 | |
| Panetelas | Conchitas | 127 x 13,89 | 35 | |
| Parisianos | Petit Cetro | 129 x 15,87 | 40 | |
| Partagas De Luxe | Cremas | 140 x 15,87 | 40 | |
| Partagas de Partagas No. 1 | Dalia | 170 x 17,07 | 43 | |
| Perfectos | Perfectos | 127 x 17,46 | 44 | |
| Personales | Petit Cetro | 129 x 15,87 | 40 | |
| Petit Bouquets | Infantes | 98 x 14,29 | 37 | |
| Petit Coronas | Mareva | 129 x 16,67 | 42 | |
| Petit Coronas Especiales | Eminentes | 132 x 17,46 | 44 | |
| Petit Coronas Tubos | Eminentes | 132 x 17,46 | 44 | |
| Petit Partagas | Petit Cetro | 129 x 15,87 | 40 | |
| Petit Privados | Mareva | 129 x 16,67 | 42 | |
| Piramides LE 2000 | Piramide | 156 x 20,64 | 52 | |
| Presidentes | Taco | 158 x 18,65 | 47 | |
| Princess | Conchitas | 127 x 13,89 | 35 | |
| Ramonitas | Carolina | 121 x 10,32 | 26 | |
| Regalias de la Reina Bueno | Coronitas | 117 x 15,87 | 40 | |
| Royales | Londres | 126 x 15,87 | 40 | |
| Salomones Espanola | Salomones Espanola | 184 x 22,62 | 57 | |
| Seleccion Privada No 1 | Dalia | 170 x 17,07 | 43 | |
| Senoritas | | | 20 | |
| Serie D No 1 LE 2004 | Partagas No. 16 | 170 x 19,84 | 50 | |
| Serie D No. 2 LE 2003 | Dobles | 156 x 19,84 | 50 | |
| Serie D No. 3 LE 2001 | Corona Gorda | 143 x 18,26 | 46 | |
| Serie D No. 3 LE 2006 | Corona Gorda | 143 x 18,26 | 46 | |
| Serie D No. 4 | Robusto | 124 x 19,84 | 50 | |
| Serie D No. 4 Reserva | Robusto | 124 x 19,84 | 50 | |
| Serie D No.5 LE 2008 | Petit Robusto | 110 x 19,84 | 50 | |
| Serie du Connaisseur No 1 | Delicados | 192 x 15,08 | 39 | |
| Serie du Connaisseur No 2 | Parejos | 166 x 15,08 | 38 | |
| Serie du Connaisseur No. 3 | Carlota | 143 x 13,89 | 35 | |
| Serie P No 2 | Piramide | 156 x 20,64 | 52 | |
| Shorts | Minuto | 110 x 16,67 | 42 | |
| Super Partagas | Cremas | 140 x 15,87 | 40 | |
| Toppers | Toppers | 160 x 15,87 | 39 | |
| Tres Petit Coronas | Franciscano | 116 x 15,87 | 40 | |
tag : cigar , 雪茄 , cigar , 雪茄 , cohiba
Reference materials from :
http://en.wikipedia.org/wiki/Partag%C3%A1s_%28cigar_brand%29
http://www.cigars-review.org/cigars/Partagas.htm